IRDAI Annual Seminar 2013 - Policy Holder
IRDAI Annual Seminar 2013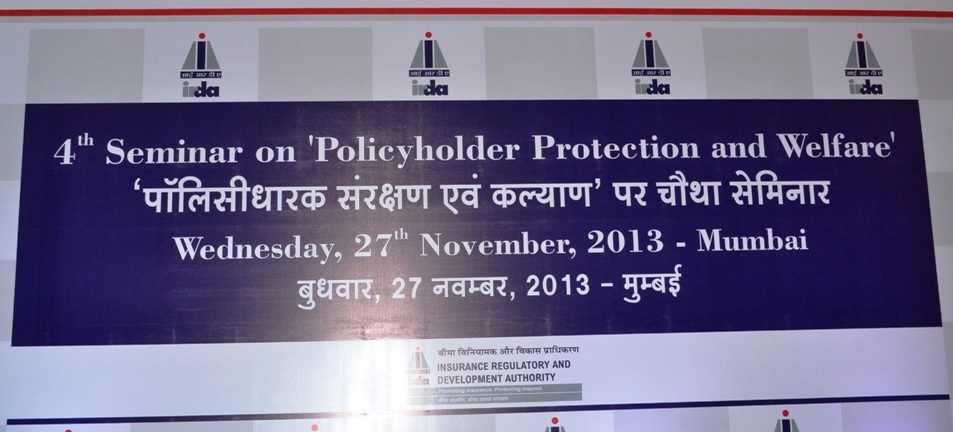 IRDA conducts a series of Annual Seminars on Policyholder Protection. As a part of this series, the 4th Seminar on "Policyholder Protection and Welfare" was held in Mumbai on 27th November, 2013.
The seminar was inaugurated by Shri T.S. Vijayan, Chairman, Insurance Regulatory and Development Authority. He launched the following during the seminar:
1 Consumer Affairs Department's Annual Booklet 2012-13
2 Handbook on Surveyors and Loss Assessors
3 Documentary Film on IRDA Initiatives
4Animation Films of Comic Book Series - Volume -3
5Mobile version of Consumer Education Website
6 Indian Non-Life Insurance Industry Year Book 2012-13 by General Insurance Council and
7 A Report on Spread of Life Insurance Agents in India of Insurance Information Bureau.

During the welcome address, Shri DD Singh, Member, IRDA, called upon the insurers to be sensitive to customer needs and make sincere efforts to satisfy customer's needs. He also advised the insurers to strive towards addressing the causes of complaint by analysing the complaint data.
Shri T.S. Vijayan, Chairman, IRDA, in his inaugural address, stated that insurers should innovate in producing simple, standardized, reasonably priced and easily comprehensible products. He urged insurers to take steps to curb fraud in health insurance as this has an adverse impact on the cost of taking health insurance for consumers. He emphasised that honouring a claim is not a favour done by the insurer to the insured but a contractual obligation. He called upon all insurers to come together along with the life and general insurance councils to spread insurance literacy among all sections of the society. He reviewed the steps taken by IRDA in fulfilling its twin mandates of Policyholders' protection and development of insurance industry.
After the inaugural session, there were four topical sessions for discussion with speakers specialized in their respective fields sharing experiences on the important issues.
The first session, chaired by Shri R.K. Nair, Member (F&A), IRDA, was on Insurance Literacy under National Strategy wherein the importance of financial literacy for common persons was highlighted. Imparting financial literacy is very important for improving financial inclusion and individuals' financial well being which directly impacts the financial stability.
The second session also chaired by Shri R.K. Nair, Member (F&A), IRDA, was titled "Can you hear the consumer's voice?" All the speakers of this session were unanimous in their view that the policyholder has to be treated fairly and given primacy in the entire insurance cycle. The speakers stressed that insurers should realise that providing for an effective mechanism to enable consumers to voice their grievances and ensuring that the grievances are acknowledged, examined and resolved expeditiously, will inspire confidence in the consumers, facilitating greater insurance inclusion.
The third session chaired by Shri DD Singh, Member (Distribution), IRDA, was about "Use of innovative channels for consumer education". The summary of this session was that use of technology and innovation through technology was the need of the hour to capture the eyeballs and imagination of the people, especially the young, for imparting financial literacy. Several innovative ways in which technology can be leveraged for consumer education were discussed.
The last session, "Delving into Health Insurance"; chaired by Shri M. Ramaprasad, Member (Non-life), IRDA, focused on various issues concerning one of the fastest growing segments of insurance sector in India i.e. health insurance. Health insurance plays a very significant role in reducing the severity of impact that ill-health and cost of treatment could have on personal finances. Ensuring policyholder servicing and protection through an appropriate service delivery framework and putting in place systems for fraud management were the issues highlighted during this session, which if focused upon can serve both business and social purposes.
The seminar was attended by Chief executives of insurance companies, Insurance Ombudsmen, academicians, representatives of financial regulators, and consumer organizations; insurance intermediaries and IRDA officials.
Dr G Mallikarjun, OSD (Grievance), IRDA, summed up that the deliberations and suggestions made during the Seminar were critical not only for the healthy and sustainable growth of the insurance sector but also to strengthen trust and faith of the policyholders in the insurance framework of the country. He also proposed the vote of thanks.