IRDAI Annual Seminar 2011 - Policy Holder
IRDAI Annual Seminar 2011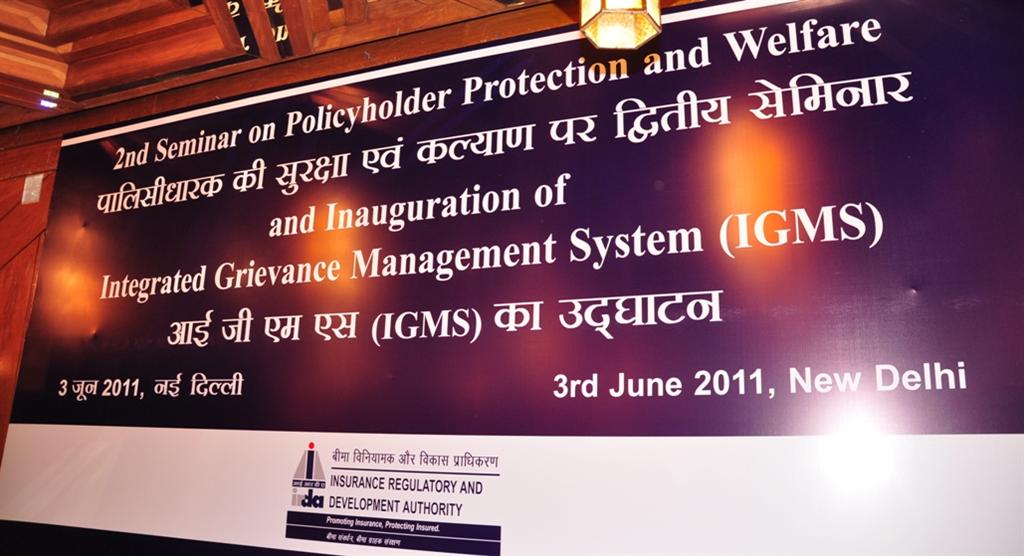 IRDA conducts a series of Annual Seminars on Policyholder Protection. In this series a seminar on "Policyholder Protection and Welfare" was held in Delhi on June 3, 2011.
The seminar consisted of three main sessions -- Consumer Education, Consumer Protection and Grievance Management & Dispute Redressal.
The seminar was inaugurated by Mr. S. K. Sharma, Secretary, Department of Financial Services, Ministry of Finance, Government of India. He also launched the online "Integrated Grievance Management System" (IGMS) of the Consumer Affairs Department of IRDA.

In the inaugural speech, Mr. Sharma said that insurance companies should focus on insurance literacy and pointed out that there were some key areas of concern like simplification and rationalisation of insurance laws.
He stressed the need for robust risk management and greater penetration of insurance in the social, rural and micro-insurance segments to ensure maximisation of insurance coverage.
Mr. J. Hari Narayan, Chairman, IRDA, in his keynote address, said that IGMS provides a standard platform to all insurers to resolve policyholder grievances and also enables the stakeholders to analyse data on complaints and make systemic changes wherever required.
Ms. Anushree Sinha, NCAER, made a presentation about gauging insurance awareness levels on the basis of research carried out by NCAER with the financial support of IRDA. Mr. R. Desikan of Consumer Association of India, Mr. S. B. Mathur, Secretary General, Life Insurance Council and Mr. Sanjay Kedia of Insurance Brokers Association of India spoke on "Strategies for Consumer Education in Insurance", "Consumer Education – Industry Initiatives" and "Insurance and Insurance Intermediaries and Consumer Education" respectively.
The second session covered topics like Insurance and Consumer Protection, Consumer Protection – Initiatives of the Industry, Consumer Protection – Responsibilities of Insurance Intermediaries and Consumer Protection – Regulatory Perspective.
speakers in this session included Mr. Sri Ram Khanna, Delhi School of Economics, Mr. Sandeep Bhakshi, CEO of ICICI Prudential Life Insurance Company, Mr. H. M. Jain, Insurance Advisory Committee and Ms Yegnapriya Bharath, Joint Director, IRDA.
The last session related to Grievance Management – Industry and Regulatory Mechanism, Institution of Insurance Ombudsman, Arbitration and other Alternate/legal Redressal Mechanisms and Third Party Administrators and Policyholders Grievances, which were presented by Mr. T. V. Rao of IRDA, Mr. Vishwanathan of Office of the Insurance Ombudsman, Mr. M. Ramadoss from The New India Assurance Company and Mr. Pawan Bhalla of Raksha TPA.
The Authority brought out a Comic Book titled "Ranjan and his tryst with Insurance" and Policyholders' Handbooks on Motor Insurance, Health Insurance, Intermediaries, Travel Insurance, Property Insurance and Life Insurance .
The Consumer Affairs Department's Annual Booklet 2010-11 was also released during the seminar.